An Interview with Brian Tyacke
Why did you choose the German national team?
There's no one easy answer to this as it's a combination of a few factors.
New opportunity / potential: I'm excited to be working with a new group of players who I think should continue to be one of the top European teams.
Large & highly skilled talent pool: Germany being the size it is just leads to having more players within the talent pool to choose from. This creates additional competition for spots & pushes guys to become more skilled at a faster pace than if there is a smaller talent pool.
Close to home / familiarity: It was quite convenient going to Switzerland for camps & games just based on the flights available and the Swiss were very accommodating here. I live in Berlin so the fact that we could have camps in Berlin or close bye certainly is appealing. Playing in the Box league with Spreewölfe also gives me a good overview of the players within the country and lets me see them first hand.
Support: Knowing that I can utilize experience from Jesse & Scott has its benefits to transition into this new coaching role.
What makes the perfect player for you?
This is a tough question as I would say there is no definitive answer as to what a perfect player is. But here are a few things of what I value in a player:
Committed: Someone who shows up to the majority of camps to improve their skills and improve the level of the team. Regardless of their talent level already.
Willingness to learn and get better: Someone who continues to get better and add new skills that make you a better all around player. This could be within Europe but also challenging
themselves and playing in Canada for a few months to learn and develop with better talent.
Mental Toughness: The ability to perform under pressure and continue to push yourself further than you've gone before. The desire to exceed expectations.
Competitive: Have a strong desire to win and constantly strive to be the best.
Physical fitness: Being in shape can be the difference between winning and losing. It's tough to exceed expectations as a player if you aren't in shape.
Team Player: Everyone on the team is important & needed to reach our goals. Players need to be able to work together & trust each other to reach our goals. To do this you need to show up to open camps & practices.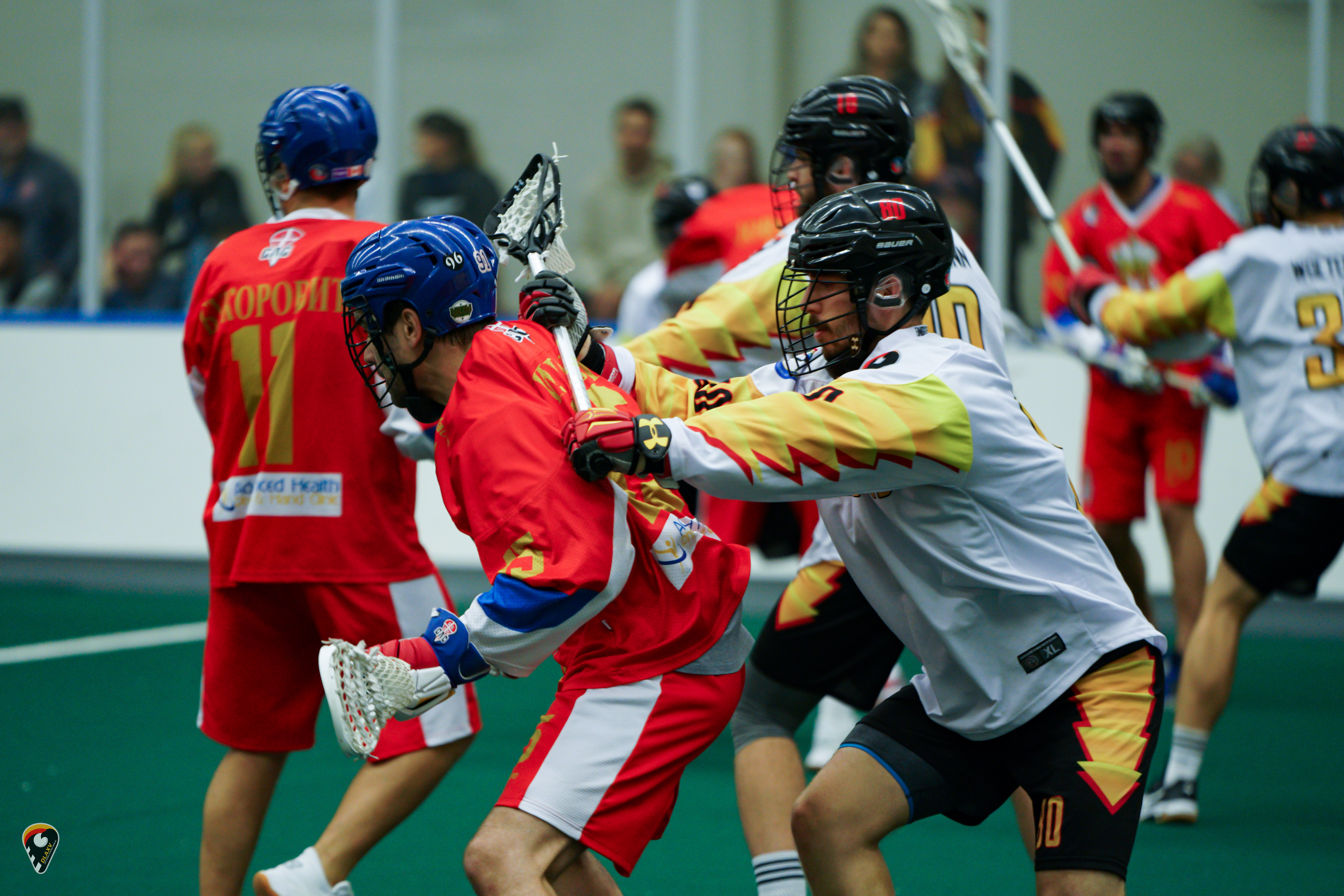 What makes a good headcoach for you? How do you define your roles in the German team?
Someone who can motivate and get a group of players working towards a common goal. While holding the players accountable to a higher standard that is expected when you're playing on a National Team. It's important to also develop the players and place them in positions where their strengths can help the team succeed.
For the roles it's about a collaborative effort to try and make the best team possible. Just like any player, coaches have unique skill sets which should bring additional benefit and compliment one another.
You played for Germany yourself in 2015. How well do you still know German lacrosse in terms of players and current developments?
I know a good majority of the 'veteran' players having played with them in 2015. In terms of development I'd say the things within the country have progressed quite a bit from what I first remember.
I remember Jamie Plunkett and I held a box camp here in Berlin. We didn't have a rink to play on and had to use a grassy field to teach box lacrosse. This field had no boards and prior to the camp we had to cut the grass ourselves from a borrowed lawnmower. We tried to cut the shape of a box rink in the grass, not sure how successful we were. But it all worked out.
With all this in mind I think we had around 20 guys at the camp who were hungry to learn and develop. Some of them have gone on to play for the National Team. I think this really speaks to the level of commitment of how guys want to develop and get better. I still see the same mentality today just with better facilities now!
One of the main reasons why Jamie and I co-founded the Deutschland Adler was to give guys playing time against higher level competition. It's great to see how this has transitioned into guys playing for the National Teams. Also, now there is a German box league and having a team in the NBLL is very important which will just continue to push the growth of Box Lacrosse in Germany.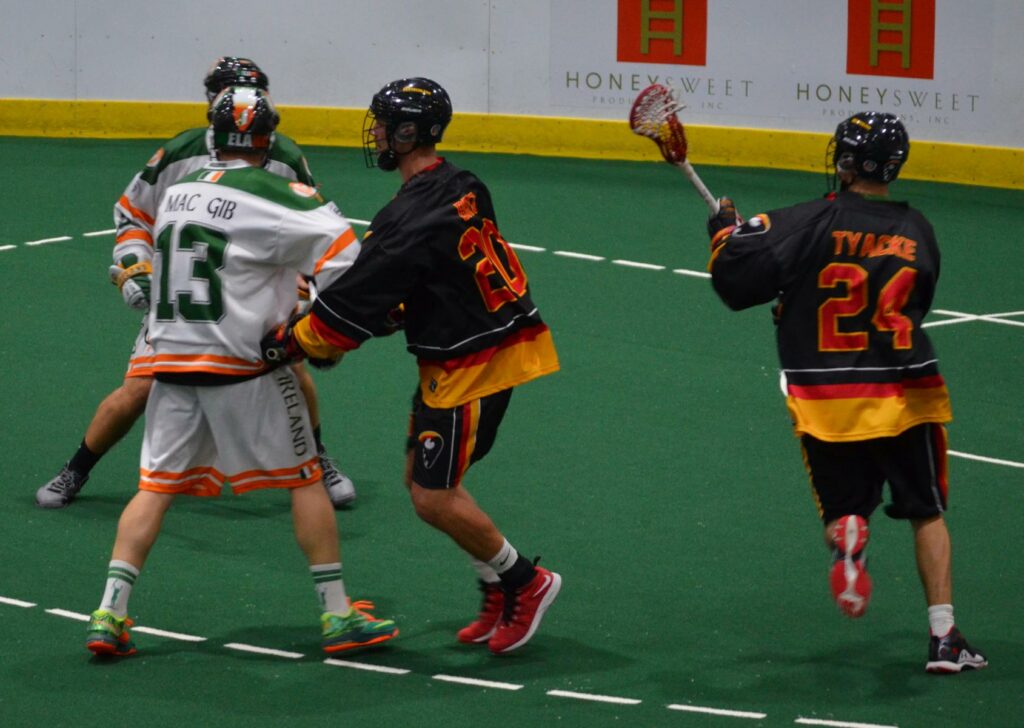 What is your goal with the German national team?
My goal is to win
The longer answer is that I want to continue to grow Box Lacrosse within Germany and get more people involved. I truly believe that Germany can continue to grow to be one of the European / World Box Lacrosse powerhouses. The skills the players develop in this program I hope will help the other National Teams and make them stronger as well.
If you look at other European countries they're programs have really been supported by players playing Box Lacrosse in Canada. I think there are a few players within German Lacrosse who are at the level they can do this and I'd like to try and help facilitate this.
Have you learned anything in Swiss lacrosse that you want to apply in Germany?
Yes, being with Swiss Lacrosse for 7 years definitely has taught me a lot. I think one major thing is trying to have players who started playing Field Lacrosse & converting them to Box Lacrosse players. It's not just different rules, but it's more trying to change guys' mentalities to think more 'outside the box' and be less rigid in how they play.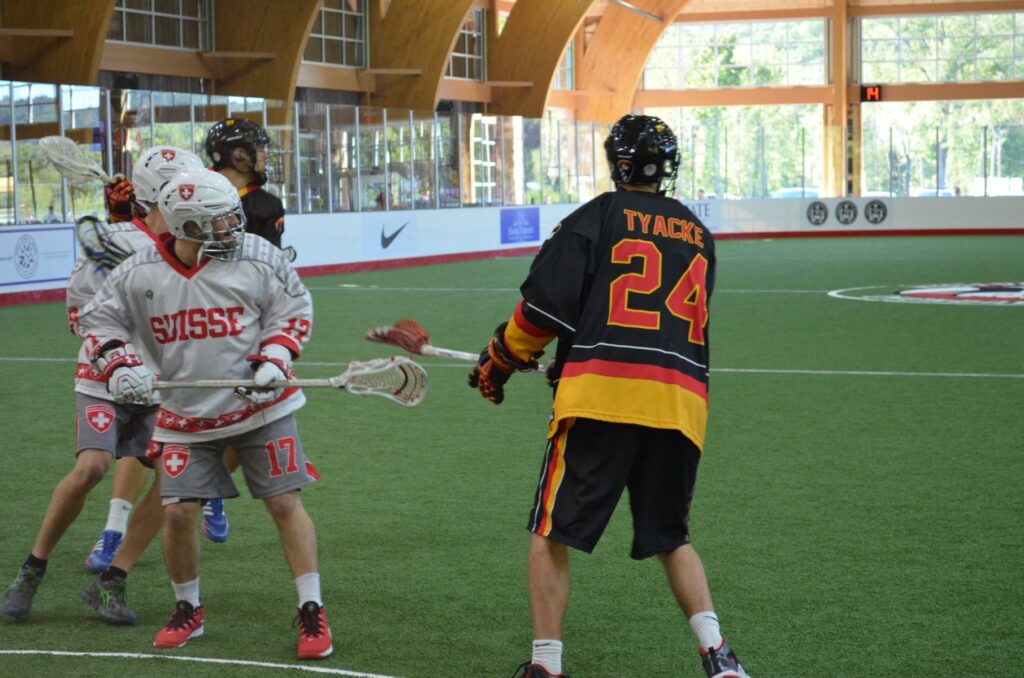 What do you think will be your biggest challenge?
I think one challenge is getting guys enough playing experience prior to the 2024 Worlds. It's important for me as a coach to get as much game experience as possible or the players / team.
I also think continuing to build off the performance of the past National Teams. We should continue to improve but other countries will also get better so that will be a challenge. But if I was afraid of this challenge I wouldn't have accepted this position. As I've said I think there is the potential to get better.
What makes you a good headcoach?
Normally I don't like to talk about myself but since you asked:
I like to think my lacrosse IQ. I've been involved with Box Lacrosse for almost 30 years and there's not much I haven't seen. I also think being able to recognize how players with different skill sets can fit into a team and to make us stronger. On top of this, I enjoy putting in time and developing players to where they're key in our team's success.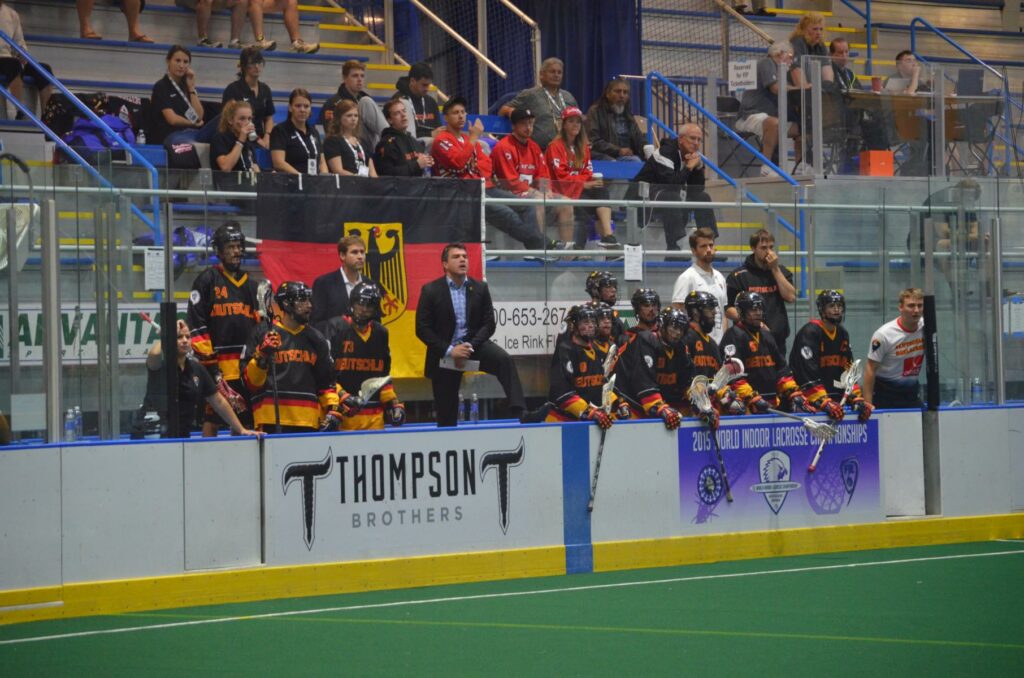 What are you most looking forward to as a new headcoach?
Working with a completely new group of players, trying to develop them to make us successful. I had a fantastic time working with the Swiss but like a lot of European countries they have a small talent pool to choose from. Having a bigger group of players to work with and select from provides new opportunities.
But really it's the entire opportunity to be with a program that I've not only played in but helped support in the past.
Do you have a team philosophy that you want your team to live by and that you would like to share with us right now?
I don't want to say this is the final philosophy but I do think the below values are important in order to set us up for success.
We need to be a team that is relentlessly difficult to play against. We will be known for our tenacity, grit, skill and athleticism. Each team member will be relied upon to make valuable contributions towards our success, while also maintaining a personal motivation to consistently excel.
The preparation you put in outside of practice & games will set us up for the success we're expecting.
Are you in contact with former headcoach Jesse Cracknell or has he already contacted you?
Yes, I am in contact with Jesse. Prior to accepting this position I reached out to him to ask some questions. He was very quick in his response and willing to continue to support the program where he could. Knowing that this support is there will help ensure an easier transition into the team instead of having to start completely from scratch.
Is there anything else you would like to say to the German box lacrosse community?
I would say this to the entire German Lacrosse community. I want to emphasize that everyone has a chance to make the National Team. Representing your country is an incredible honour that is well worth the investment.
Give box lacrosse a chance and try it out at least once. Come out to one of our upcoming practices and see for yourself how it can make you a better player.
Next possibility to present yourself and to try out is in august in Cologne:
Camp 12./13. August – Köln
https://forms.gle/e5Sn3pPBWYUQ64d36
I'm very much looking forward to working with everyone and seeing that talent that exists within the Country. Just a general note for the players, make it hard for the coaching staff not to take you to the World Championship. Show up to camps, continue to get better, ask questions because all this will help.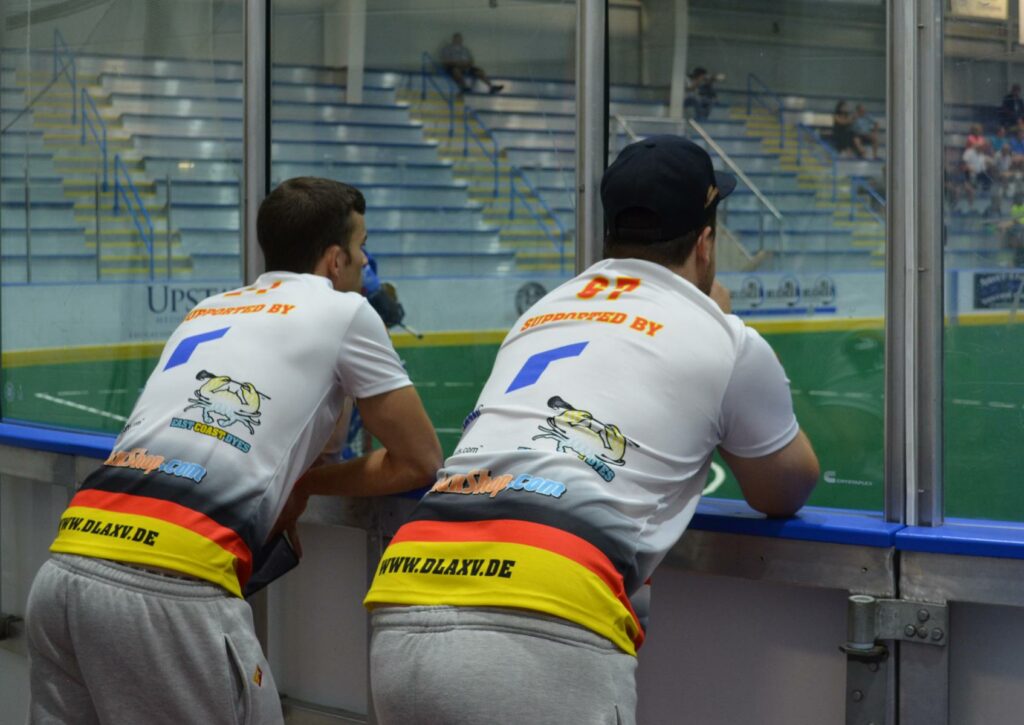 You have 3 other positions besides yourself on the bench. Who are you taking to the World Championships?
I'm happy to announce that Adam Marshall has agreed to join the program as an Assistant Coach. Having just led Germany to an impressive 11th place showing in the Field World Championships shows his ability to coach at the highest levels. His knowledge of German Lacrosse & attention to detail will be invaluable to the Box program.
I'm very happy he has agreed to join and excited to start working with him.
As for the other spots this is something still we're in the process of figuring out and still yet to be determined.
Fotocredits Simon Krause
Posted by DLAXN