Pete DeSantis was born in Detroit, Michigan, raised in Pittsburgh, Pennsylvania. 8 years ago he moved to Hamburg to coach the HTHC U-21 team. Since 7 years he is the head coach of HTHC 1. and 2. Teams. Furthermore, he is a member of the U19 National Team staff since 2011 and head coach since 2014.
Pete DeSantis started lacrosse at the age of12, played high school lacrosse for Mt. Lebanon High School and played college lacrosse for St. Vincent College. Lifelong goaltender.
He helped starting the program at NCAA Division 2 Seton Hill University as a Graduate Assistant where he got paid almost nothing for coaching; in return he got free education and all the food he could eat. Pete graduated after four years with a Masters in Special Education and moved to Hamburg.
Now he teaches English during the day and coaches lacrosse at night. He lives with his wife Gabrielle and his dog Lager. His asterisk is a gemini.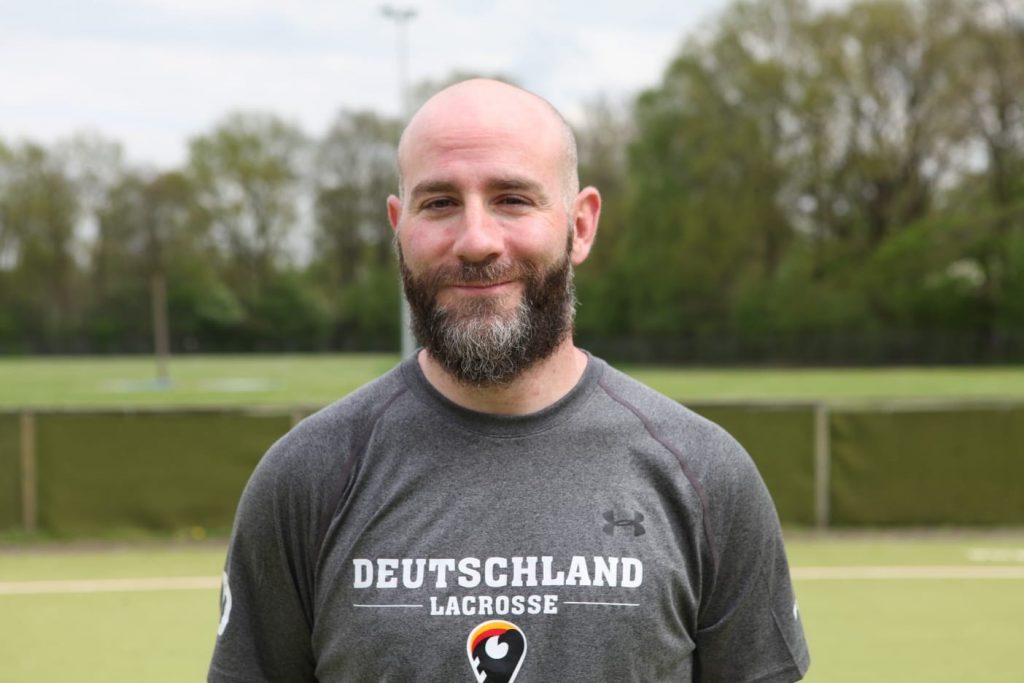 When you came to Germany, what did you expect from Lacrosse and in general from Germany?
When I moved to Germany I had just finished four seasons as an assistant coach helping start a new program at an NCAA D2 university. I expected to bring that program with me to Hamburg to coach what was then our C-Team (u-21). I think the players in Hamburg have changed me as a coach as much as I have changed them as players. I've learned alot here that I'm not sure I would've learned had I stayed in the US coaching.
How did the program and the sport change since you started coaching in Hamburg?
In my opinion the biggest change is the commitment of the lacrosse player, not only in Hamburg, but all across the country. All over the country I meet players who are just super hungry for all the lacrosse they can find. They train more, they wallball more, they lift more, they watch lacrosse on their computers when they should be working or learning at school. I feel like, and I'm happy to be told I'm wrong here, that the German lacrosse player today is smarter, more experienced, and possibly a better athlete than in years past. I think that's primarily the product of strong youth programs throughout the country and secondarily due to the availability of lacrosse on the internet. In Hamburg we have a core of young players who have, sometimes as much as 8 years of lacrosse experience already, and they're not yet 23 years old. Our Minions, the u19 kids who play for our A-Team, they've already played lacrosse for maybe five years. They understand the game so much better than a u19 player 8 years ago.
What made Hamburg so successful in the last few years and how did the youth program influence your success?
That's pretty simple: Our players. We have great players in Hamburg. Since my first day as the head coach of the Warriors, I've said the best way to become the player you want to be is to train against a Hamburg Warrior. That's not a knock at all against other clubs, but with the way the league has been structured since I've been here, it's hard to get really great games before the playoffs, so, when we train together, we get to play against the best, every week. We have great attackmen, and we have great defensemen. So, if they train hard against each other, of course they're going to make each other better, stronger. Iron sharpens iron (I see you Eric Loomis, I can quote Mike Tomlin too).
The youth program has really helped our men's success because it's provided us consistently with talent, home grown talent, not talent that moved here, not talent that learned the game elsewhere, home grown talent. They've learned the game from our own men's team players. There's been a lot of consistency, our youth players come up to the men's team and now their old youth coach is their teammate, or a manager on the team, or or or. There's just a tremendous amount of consistency and familiarity.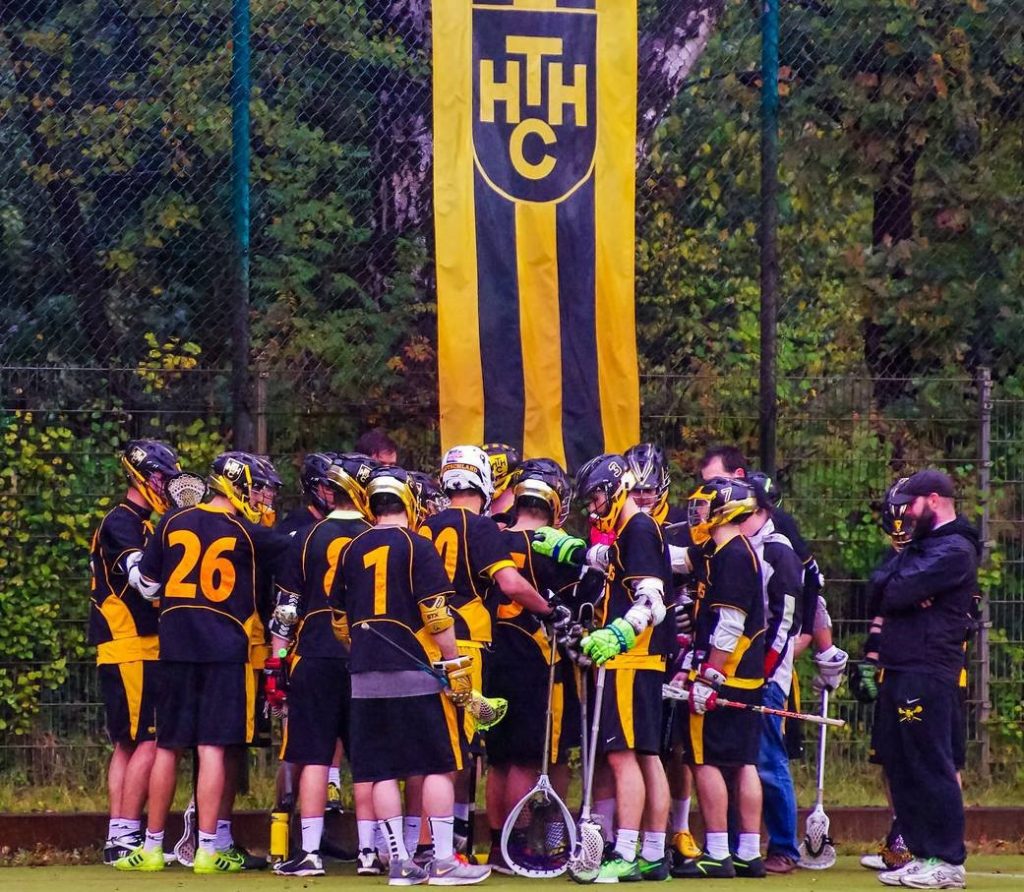 What is the biggest challenge for you as a coach and your team?
The biggest challenge for me as the coach of the Warriors is pretty simple: The Hinrunde. It is the worst. In Hamburg, the expectation for every year is "win two." That's win two games at playoffs, win two games at the DM. Win two. The whole season really boils down to a few weeks in May and June. Coaching in the Rückrunde is easy. The Hinrunde, not so much. Keeping our guys excited and focused on that is tough, especially September through November. Hamburg in autumn is different from Hamburg in spring. The rain is much colder, but also our training is different. I try to run the Hinrunde like fallball in the NCAA. It's not quite so serious, it's more individual teaching and development. Anything goes, bounce passes, behind the backs, over the head checks. It's joga bonito, play beautiful, have fun, take risks, push your limits. We also try to find friendlies like traveling to Manchester or Prague that adds value to the season for us, so our guys can get away from the BLNO and see some different faces on the playing field.
You have been coaching the u19 National Men's Lacrosse Team for three generations now. What convinced you to take the position as a head coach? Furthermore, what are the differences between coaching a u19 National Team and club team?
The only hard part about the u19 decision was recognizing how much time it would take me away from my wife, once she ok'd that and supported it, it was simple, I'd get to work with kids who want to excel at lacrosse and I'd get to do it with a manager in Jakob Albrecht and a coaching staff of Marek Beck, Max Bieber and Kilian Bombosch, all of whom I trust completely. Every national team represents the highest level of participation/competition that there is for the players. The German u19 program provides the players the opportunity to work hard at something they love, compete against each other to become better and show everyone the improvements they've made, and ultimately, when we travel to the WM or EM, to celebrate their hardwork and achievement by playing their game against young men from across the world with similar stories. It's pretty great, and I love that I get to be a part of this program.
The difference between club and the national team is pretty simple: anyone can play club. When you play national team, you get to travel the world, you get to play at the highest level that most of us will ever play. That's pretty awesome, in exchange for that, the expectations are especially high, the commitment on and off the field is especially high. As far as the actual coaching goes, with the u19 nationals we try to make the game as simple as possible. For us that means, play fast, that means RUN. Everything is a fastbreak if you believe hard enough. At a WM, you play 8 games in 8 days sometimes. That doesn't lend itself well to a highly complicated, gameplan oriented approach to each game. We develop our identity from the start: everything is a break. Our offense and defense are designed around simplicity so that after Day 4 of games and everyone is exhausted, they can still execute what they've learned.
What is your favourite part about Germany?
Favorite part about Germany: Good people. Good beer. Good beer with good people. I think that's it. I tell you what's not my favorite, Currywurst. Eight years here and I still think that stuff is terrible.
Thank you, Pete! And good luck for this season!