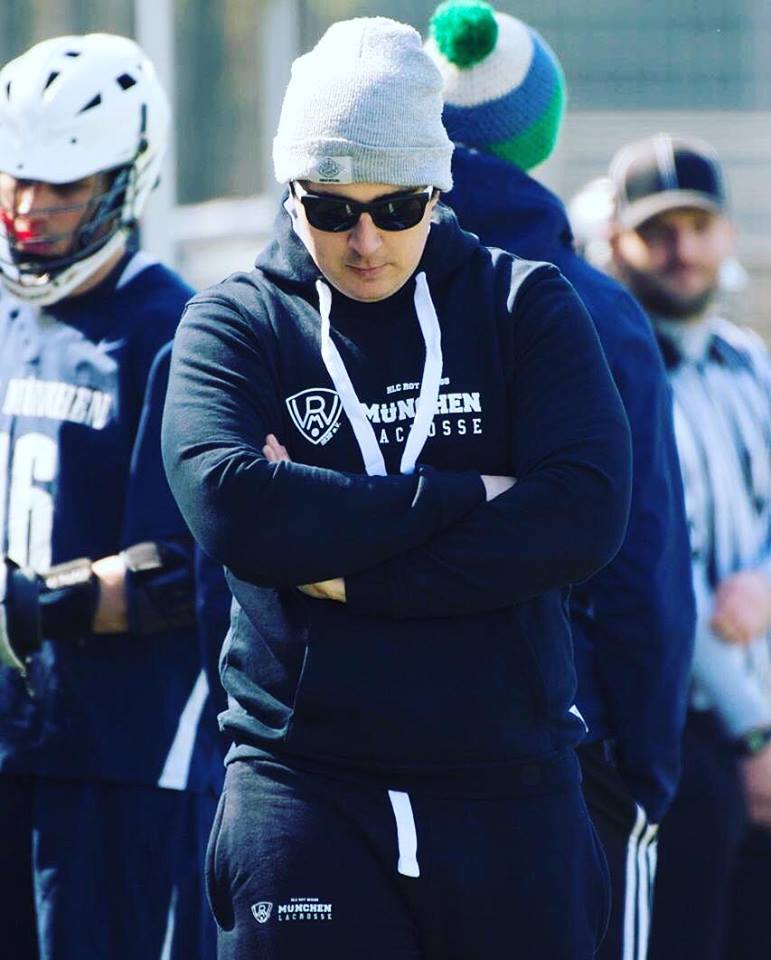 Eric Loomis has been the head coach of men's lacrosse for HLC Rot-Weiß München for the past two seasons. After finishing as runner up in the German Championship in 2017, Eric and his team captured the title in 2018. In addition to winning the German Championship, München B also won the Ligapokal (championship of the 2nd division in South Germany) in 2018. Before moving to HLC Rot-Weiß Eric was the player/coach for Ingolstadt Panthers for two seasons and led them to the Ligapokal finals in 2016.
In addition to coaching one of Germany's biggest club teams, Eric is also the Owner and CEO of Showstopper Lacrosse (www.showstopperlacrosse.com). Showstopper Lacrosse is mainland Europe's new premier lacrosse store, carrying all the latest and hottest gear and is the only full service lacrosse shop that is owned and operated by lacrosse players. In addition to the store, Eric also organizes and coaches the Showstopper Lacrosse travel team. Started in 2015, #teamshowstopper is now Europe's winningest travel team over that time period, capturing victories in Amsterdam, Tilburg, Heidelberg and Münster. Team Showstopper brings together premier players from all over Europe for the continent's biggest events. You can follow all things Showstopper on Instagram @showstopperlax.
DLAXN: Your club team is currently undergoing a dramatic change. After the German championship some of your key players announced their retirement. How did this influence your plans for the KGC?
A dramatic change is a bit of an understatement. Of the 26 players we took to Championship Weekend, 16 have the left club, retired from competitive play or are otherwise unable to play a full season this year. A handful of key guys were able to come back for KGC, but we also had some guys who were unavailable because of work or other commitments. We went into the tournament missing our two top scorers from last year who combined for about 150 goals, our entire defensive midfield, our three top face off athletes, a starting close defender from the championship game and last season's #1 goalie. We knew that we were going to have our work cut out for us that weekend. We knew that we would have to really get our game planning right and play to our strengths that weekend which was our defense and our ability to grind teams down in our 6v6 sets. Full credit to the players, they did exactly what we needed to do to be successful that weekend.
DLAXN: Going into the KGC, what goals did you set for you and the team?
There's something I've been saying all summer (which I have stolen from Pittsburgh Steeler head coach Mike Tomlin) as we try to re-built and re-load our program, and that is, "The standard is the standard." When you coach or play for one of the biggest and winningest clubs in the sport in this country the expectation is to always win the tournament, no excuses. Realistically I knew we would have an uphill battle, missing the players we were missing and having a roster of 16 players for 3 days of games. I would have been happy with a top 4 finish going into the tournament.
Our other goal was team building and fun. We went into the weekend with a mixture of guys celebrating what we accomplished last season, some playing their last games for München, and new guys just making their way into the first team. We wanted to have every one come together and create that team and family atmosphere and have fun doing it, and we certainly accomplished that.
DLAXN: Your team played six games, which one was the hardest and why?
Obviously, the tournament champions from Poynton are a phenomenal team. They had 4-5 England national team players, including the England #1 goalie and what seemed like a small army of big guys who could all run and ball handle. Added to all that talent they also had recent UNC stars Luke Goldstock and Jack Lambert. It was a seriously tough matchup. We played them twice in the tournament and both games were very physical and emotional. For a lot of our guys, it was the first time they had seen players of that caliber. I'm very proud of the fight we gave them and how hard we made them work for it. In the final we were down by a lot very quickly, but our guys never stopped fighting and playing for each other. We may have gone out hard in the end, but we went out on our shields.
I also have to tip my hat to the Vienna Monarchs team. We played them in the first game of the tournament, and they were missing several key players who hadn't arrived yet. We played very sloppy and undisciplined and they gave us a hell of a fight despite only having 11 players for that game.
DLAXN: You lost to only one opponent (Poynton, who won the championship) what does it say about German Lacrosse?
I think it shows really great things for German Lacrosse, especially the depth of our clubs and how good our players are top to bottom. We were able to beat a lot of really good teams and more than half our roster was players recently promoted from the B team and U19 players. Most of our players that weekend aren't "household names" in European lacrosse so to speak, but they are all talented and know how to play at a high level. I think that's the same with the majority of the big clubs across the country. It was a great statement for our club and German lacrosse on the whole.
…But man I would have loved a shot at Poynton with the team that won the DM.
DLAXN: Even though you were missing key players, you managed to place second (best German record ever). What made your team successful?
As I said before, we knew we had to get our game plans right and really play our game. We were able to find a lot of success by playing a real high pressure style on defense which is a signature of a lot of German clubs. We shut off all the adjacent passes and used our athletic ability to stretch the offenses out and pressure all the way to midfield. That helped us create a lot of turnovers and disrupt the rhythm of all the offenses we faced. We also found a lot of success in pressuring on the ride and forcing our opponent's defenders and goalies to make quick decisions with the ball. Offensively we moved the ball quickly but were patient to find the right matchup to attack. Our shooters did a great job finishing their chances and a lot of our newer players did a great job in initiating the offense. Justin Lively did a great job at the face-off X despite being an LSM by trade and we double poled the wings to make every face-off a 50/50 scrap. We got some unreal goaltending from Philipp Jaworski. It was a total team effort and everyone bought in and did their jobs and gave it everything they had. By the end of the tournament I think just about everyone was shattered and exhausted.
DLAXN: What was your favorite moment?
The semifinal against Oslo. They are really an extremely talented club, I think they've been second at KGC for the last 2-3 years. They were all huge guys and could really play. We did a great job containing them and sticking to our game plan. Then somehow with just a few minutes left in the game and a two goal lead we ended up being two men down for two minutes in a massively confusing situation that involved a player who wasn't even on the field being called for a slashing penalty. We got our composure back, got a big save and managed to kill the game off. It was great to see the guys do whatever it took at the end to finish off the win.
…Second favorite moment was this little attacker from UCD (Dublin) absolutely shaking Matthias Lehna out of his cleats for a goal. We had a great laugh about that pretty much all weekend.
DLAXN: What are your expectations/goals for the upcoming season?
As I said before, the standard is the standard. We have a lot of work to do, and the guys got a good reality check a couple weeks ago losing to a very good Erlangen team. We are breaking in a lot of new players and trying to change our style of play. It's going to take some time and there will be bumps in the road along the way, but the expectation is that we will be back in the playoffs and hopefully competing once again on Championship Weekend. The goal is always to win it all, or else why play the game?
Posted by DLAXN