EARLY YEARS
Where did you grow up and has lacrosse been played in your family before?
I grew up in Davidsonville, Maryland. And yeah, my grandfather played at Boys Latin High School and at Loyola University and my dad played in High School at Calvert Hall. Back then, when my grandfather played, it was around 1950, maybe earlier.
How big was lacrosse in your region?
It's like "the big sport", especially in Maryland. High School was pretty cool, because you had the schools from Baltimore and Annapolis play Friday nights under the lights and everyone from the school came out to watch those games.
Did you have a special mentor/ supporter who motivated you?
Probably the person that really got me going was my dad. He loved lacrosse and he grew up with lacrosse. On my way to my first ever game at age five, I got really nervous with "butterflies" and asked him to bring me back home. I am really happy that he didn't grant that request because after that game, I definitely fell in love with the sport and wasn't just playing in the backyard anymore.
How does lacrosse differ, especially at the youth level, in Europe and North America?
Back then or today?
I mean you see how it is today in Europe and you have seen it a couple years ago in North America. Maybe compare those two stages.
I would say youth lacrosse when I grew up had some similarities to German lacrosse now, where you played for your town. Unfortunately, that may have changed a little bit – from what I hear "rec" league is now not the main league, but rather young talent opt to play for club programs and tournaments. For youth lacrosse in Germany, I've only perceived it from the perspective of an adult player. But I have to say I'm impressed with Frankfurt's youth program.
NOTRE DAME COLLEGE
After high school, you went to the College of Notre Dame. How did you get there, what did you have to do to get there, and what was the try out process like for you?
There wasn't really a tryout. Most people get noticed by playing at summer tournaments where you go play five or six games for a weekend, and the D1, D2 and D3 coaches sit on the sideline with their fold out chairs, taking notes on the players.
I got pretty lucky when I was a sophomore in High School. I played in Texas when Notre Dame was also playing there. And it happened to be this one game where I played really well when the whole Notre Dame team, coaches and staff were watching. That was the first time they were interested in me and wrote to me.
With your commitment to play at the University of Notre Dame, you went to one of the top lacrosse schools. What did that mean to you? Was that where you wanted to go from the beginning?
I mean I grew up in an Irish catholic family with my nana who absolutely loved Notre Dame – so naturally we all loved Notre Dame. I grew up watching ND Football, Lacrosse, all of that…and actually her dad went to Notre Dame and wanted to get his kids to go there too, but he had only daughters and at that time, girls weren't allowed at Notre Dame. So there was a connection from the start and it just felt like the right move.
I visited a bunch of schools but it clicked with the guys on the team, the coaches, the place…
What exactly do you mean when you say that everything worked out and clicked with the boys?
When you go on a trip to a school that has interest, you meet the coaches, you sit in on a practice and after that you usually stay the night with a player. So you get a whole view of what it's like to be a lacrosse player on campus.
I really loved each one of those stages and my parents could also tell I really loved it.
Which schools were still available for you at that time?
I visited Duke, UNC, Cornell, Georgetown and Notre Dame of course.
Did you then choose the university only in relation to lacrosse?
Lacrosse was definitely my main priority, but I also recognized that I could use lacrosse to go to a university that would otherwise be difficult to gain admission to.
What did you end up studying?

I studied Business & Administration, with a focus on marketing.
What would you say is typical in America, to play lacrosse and study something on the side?
I mean it's hard to say how it is generally speaking, but Notre Dame is pretty serious on grades. If you don't have the grades, you can't play. So they make sure that you take care of school before lacrosse. When I look back I am pretty happy that it was like that (laughs).
What was your day-to-day life like as a college athlete?
Basically wake up, go to the dining hall, get some breakfast, then go to three or four classes. Then after school, go to practice which starts around four in the afternoon…
…you practiced everyday?
No, it wasn't everyday; it differs between fall and spring. I would say we practiced three to four times a week, and in the fall, we also did a lot of weightlifting and conditioning. So it would be like practicing from four to six, then going to do some weightlifting and then to the dining hall for dinner and then you're back to your apartment to do some schoolwork. Pretty full day.
Spring is a bit different. Not as much heavy lifting and conditioning, more like lifting to stay fit and healthy for the games on the weekend.
What advice can you give to young athletes who also dream of playing lacrosse at a top college? What is the path, what are the chances and what do you have to do to get there?
I mean obviously put in the work. The competition is only getting better and better. I feel like nowadays the players have brought the game to the next level. If you really want to do it, you also have to have an honest conversation with yourself because there are certainly trade offs.
But it is definitely possible for German players. I mean Per [Olters] did it and I see some players here that could totally do it. I just think you've got to weigh everything. Is it worth it or not, because Germany has a lot of benefits too: free university and stuff like that.
Speaking of free university. Did you have a scholarship?
I had some assistance from the university.
You played with players like Matt Kavanagh and Sergio Perkovic. How was it to play with such guys?
I think it's really cool that I got to play with great players like Sergio and Matt, but I think the biggest takeaway I had was that they're just one of the guys, you know what I mean? Like whether you're playing in Germany or at Notre Dame, your teammates are your best friends and even a superstar is just one of the guys.
Besides that, I think that Matt was the one that really made an impression on me when I first met him at practice. Because he did things at the attack position that I've never seen before. He had excellent games, but in practice he was just as insane.
Lacrosse was obviously very important to you, how was it with the partying and the study life on the side?
In the first couple years it's newfound freedom that you don't necessarily have when you're living at home. So, I partied a lot in my first year and my grades suffered (laughs), but as I got older my partying declined a bit and I prioritized school. What's cool about Notre Dame is that they didn't have any frats, so the sport teams held a lot of the parties. It's always fun when the lacrosse house, with 40 or 50 guys from the team, would throw a party. Those were some good times.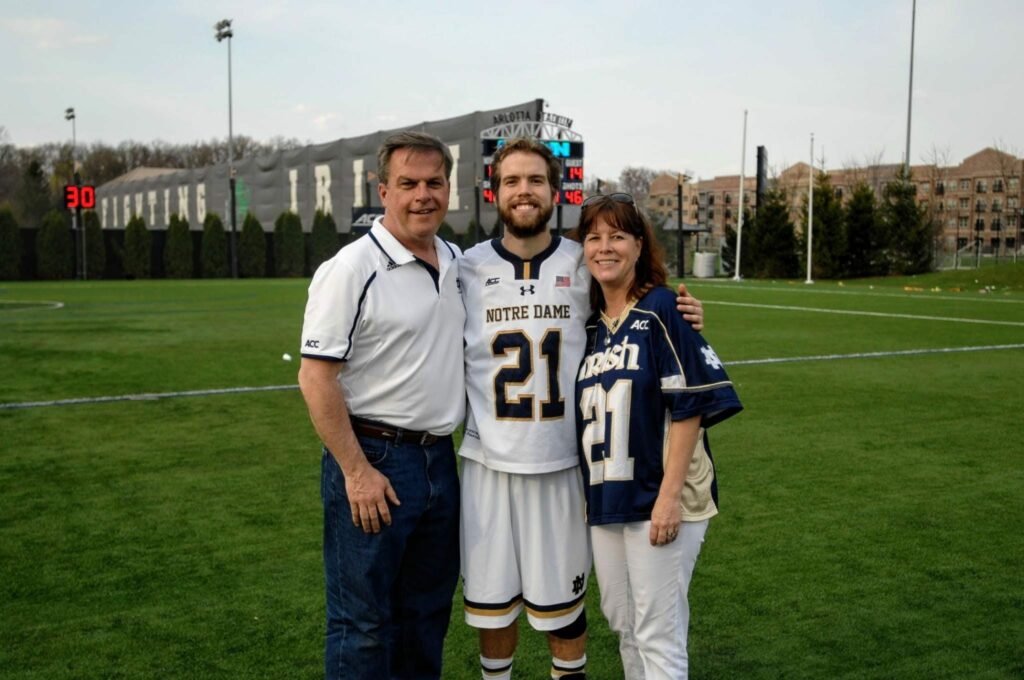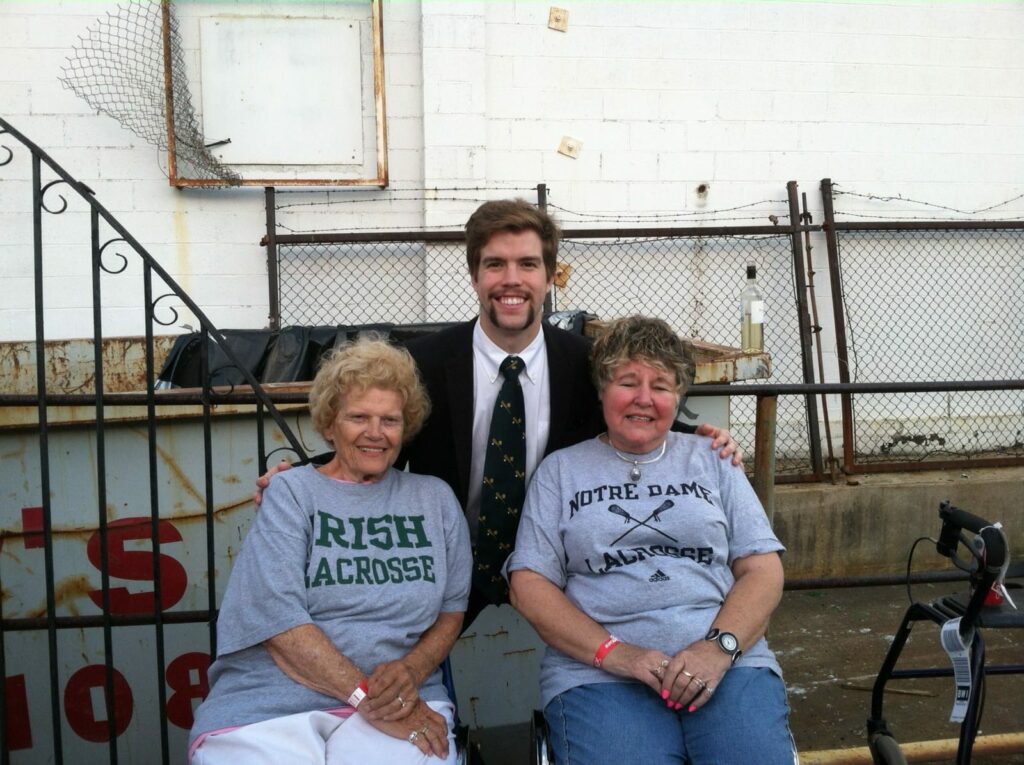 GERMANY
How did the decision to leave the States and come to Germany come about?
I graduated in May 2015 and I arrived in Hamburg in January 2016, so that was about six or seven months after graduation. I wasn't sure where I would work, but I wanted to change fields and land a job in data science. Germany was always on my radar, since I did an internship in Marktredwitz, a small town in Oberfranken, for two months. But I didn't really have a concrete plan.
So I was doing some Lacrosse coaching on the side at a Paul Rabil Camp in Maryland where I met Jeremy Matoon who was sporting a backwards hat, sunglasses, tattoos and a tank top. I was talking to him during lunch telling him about my plans to go back to Germany when he said, "Coaching in Hamburg for five years were the best years of my f***ing life! I know the coach there, Pete [Desantis], I'll give you his number."
So he gave me his number, but I didn't really think much about it. About a month later I visited my buddy in Philadelphia. We went out, had a good time and I woke up the next morning, a bit hungover and I was like, "What am I doing with my life?" (laughs). My buddy had a good job, his own apartment and here I am, crashing on his couch…so I took a step outside, pulled out Pete's number, called him and just said, "Hey Pete, this is Logan. I'm thinking about going to Germany." And he was very welcoming. He said, "Come to Hamburg, we've got a place for you to crash, we'll figure things out…" That was all I needed at that moment. I was like, "Alright, this is my one-way ticket."
Lacrosse in Europe? Did you know beforehand that it is also played here?
My first international lacrosse experience was when I was 12. I went to England for two weeks to play lacrosse and stay with a host family. This exchange program, "Metros", has been around since 1976 between my county and Stockport, a small town near Manchester. I still keep in touch with Joe and the Gosnays, the family that hosted me. Joe even attended my sister's wedding where his accent gave him celebrity status.
So I knew after this experience that the lacrosse community was bigger than I thought. And in 2014, the Notre Dame team had a trip to Italy, where we played a couple of European national teams. I really enjoyed hanging out with the players from different countries, especially the Norwegians – those guys are total lax rats!
You became German champion with the HTHC Hamburg. What was that like for you?
That was 2016. A really wild year. I was still looking for a job, so I was kind of a "professional lacrosse player". All I had was lacrosse practice in the evenings and some online courses during the day. I was getting better with my German and then all of the sudden we were in Ingolstadt where we won the championship and I was drinking out of a big trophy.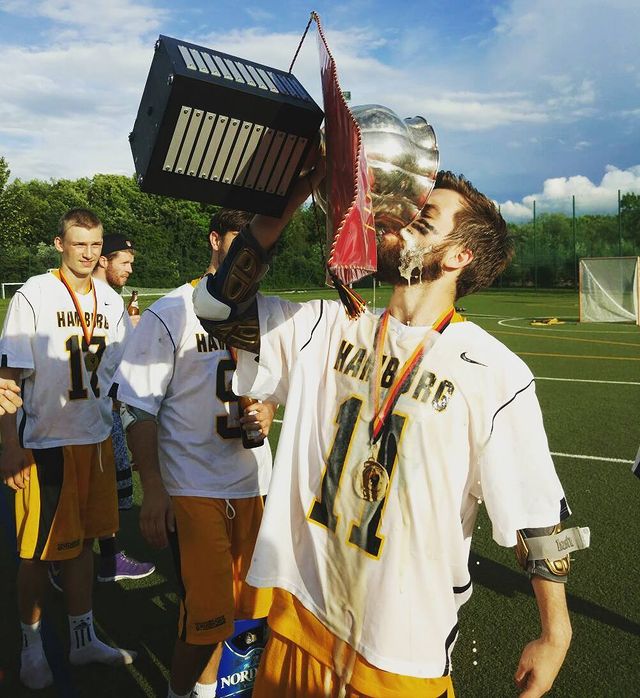 Then you moved to Frankfurt, how did that come about? Why Frankfurt and why leaving Hamburg?
Paco, our boy from Hamburg, put me in contact with my current company because he knew what I was studying and thought it would be a good fit. I interviewed with them a month before my visa was set to expire so this was kind of my last shot. If I didn't get this job, I wouldn't be able to stay in Germany.
So I interviewed in Frankfurt about a week before I was set to leave for my sister's wedding. The interview went well and they told me they will get back to me in the next couple days, but for some reason, it took them a while. So back in the US, I thought, "It's over, I am never going back." Then I got an email one day with a contract and a start date. Best email I've received to date. One of the conditions was they needed people in the Frankfurt office. I was like, "Whatever, it gets me back to Germany, Frankfurt seems cool and there is a Chipotle." So I took the job.
Then you played two more years in Frankfurt before you ended your career and became a head coach. What was that like exactly?
You just skipped over my Frankfurt time (laughs). That was a great time! Nah, I had two really cool seasons playing in Frankfurt, but I just felt like I was getting a bit old for the sport. Before I was going to practice to get out there, have some fun and sweat a bit. But then every check started to hurt a little more, and I think a big difference too is that in college, when you're playing, you're staying in shape and getting treatment. But with working all day and playing in the evening, the mornings after started to become a bit too much, so with time I decided to step away.
But then I got a call about a coaching opportunity…which I accepted not knowing how much I would actually love it.
What is your goal as a coach?
I think my main goal is to pass on my experience to players in Germany. All my life, I had great coaches that played lacrosse at a high-level coaching me. I didn't really think about it that much back then, but now I think this is a really unique opportunity because we have a bunch of young players here in Germany that really want to push themselves to become great, and that pushes me to become a better coach. Obviously, championships are great but that is the cherry on top. I always liked it when my coaches said that the goal is the next step instead of the big championship. Here in Frankfurt, we are taking it step by step every week. Unfortunately, a lot of great players left this offseason, but I think we are still going to have a good season this year.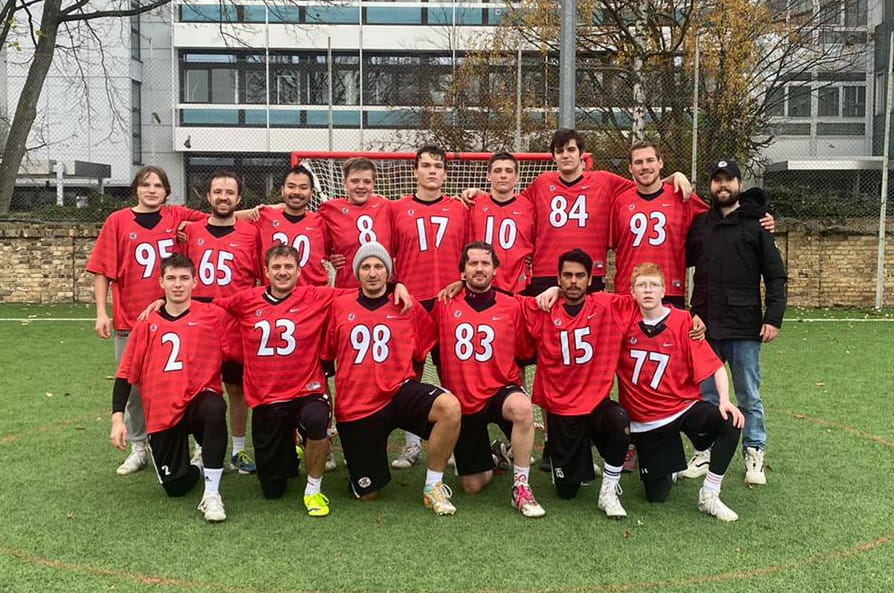 How do you see the development of the German lacrosse community?
The community is probably my favorite part about German lacrosse. I am really excited about getting back into it with coaching. That year I took off, I wasn't seeing the guys as often as I used to, and that was a blow to my social life especially since lacrosse has consistently played such a big role in my life.
Another aspect that I found really cool about German lacrosse is that it is very self organized. Teams provide refs, sometimes a case of beer at the end and just hangout with each other. It's a bit more than the sport itself. You can get everything through lacrosse here: jobs, crashing on couches…without it, I don't know how I would have done it.
Where is your journey going?
I am staying in Frankfurt for the foreseeable future with my girlfriend, Em (who happens to be one of Frankfurt Lacrosse's biggest fans). I am happy here with lacrosse and my private life. If I do for some reason move, the first thing I will look up is if there is lacrosse being played. It's the best way I know to meet people and a great community to tap into if you don't know anyone.
Posted by DLAXN